West South Central Work Incentives Planning and Assistance (WSC WIPA) Service Areas
For Work Incentives Planning and Assistance, call the national Ticket to Work hotline:
                           1-866-968-7842 or 1-866-833-2967 (TTY)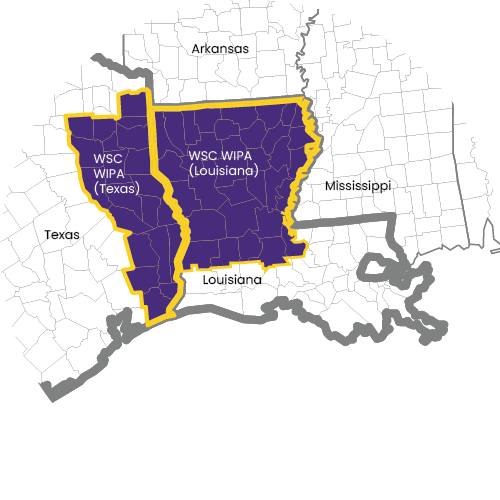 Click the map for a larger version in a new window or tab.
WSC WIPA serves the following parishes in Louisiana: Allen, Avoyelles, Beauregard, Bienville, Bossier, Caddo, Caldwell, Catahoula, Claiborne, Concordia, De Soto, East Carroll, East Feliciana, Evangeline, Franklin, Grant, Jackson, LaSalle, Lincoln, Madison, Morehouse, Natchitoches, Ouachita, Pointe Coupee, Rapides, Red River, Richland, Sabine, St. Landry, Tensas, Union, Vernon, Webster, West Carroll, & Winn.
WSC WIPA serves the following counties in East Texas: Angelina, Cass, Cherokee, Gregg, Hardin, Harrison, Jasper, Jefferson, Marion, Nacogdoches, Newton, Orange, Panola, Rusk, Sabine, San Augustine, Shelby, Smith, Tyler, Upshur, & Wood.
If you would like to request WIPA services and live in other parishes or counties, please call the Ticket to Work Helpline at 1-866-968-7842 or 866-833-2967 (TTY) and ask for a referral to the WIPA program in your area.
Download WSC WIPA Service Areas Flyer
This website was developed at U.S. taxpayer expense.