___
Welcome to the Louisiana State University Health Sciences Center- Human Development Center (HDC) Interdisciplinary Traineeship (HDCIT) also know as the ArkLaMiss Collaborative. The HDCIT is a satellite program of the University of Arkansas for Medical Sciences (UAMS) Leadership Education in Neurodevelopmental Disabilities (LEND). The HDCIT offers trainees at the graduate, post masters, and post doctoral levels, as well as family members and self-advocates, a variety of interdisciplinary experiences within four program area components: didactics/seminars, clinical experiences, research, and leadership. Interdisciplinary training is defined by the Bureau of Maternal and Child Health (MCH) as:

an integrated education program that relies upon the interdependent contributions of the collaborating team members. These team members may include people with disabilities and their families, health care professionals, and community providers.

The HDCIT/ArkLaMiss Collaborative LEND is designed to provide trainees with experiences to enable them to become effective leaders in their own disciplines and competently apply knowledge and skills to support persons with developmental and other disabilities and their families to achieve their desired outcomes. In addition, trainees will be prepared to effectively participate in an interdisciplinary process of designing, evaluating, and implementing programs, and to effectively work in interdisciplinary settings including but not limited to: clinics, schools, family homes, other community locations, and universities.
___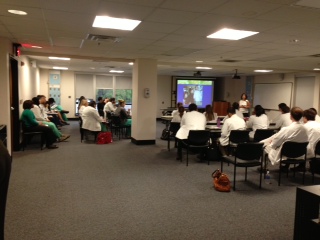 "Nadia Johnson, HDC LEND Trainee and Occupational Therapy faculty member, completed her LEND Leadership Project on April 5th, 2013. Nadia became interested in Social-Emotional health of children and families and its effects after attending a session on the topic at the annual AUCD Conference in Washington, D.C. After learning that pediatric residents don't always receive training on Social-Emotional health of children and families, Nadia prepared and conducted a seminar on Social-Emotional health of children and families to educate pediatric residents at Children's Hospital of New Orleans. Nadia's seminar was so well received that she was asked by the pediatric residents to come back and provide more specific training in the form of prevention versus the intervention model most learn. "
Educational Health Fair
"Meredith Poynot, an HDC-LEND Trainee and student in the AuD program, organized an Educational Health Fair for the children of the North Rampart Community Center (NRCC) on April 26th, 2013. Meredith coordinated four student-led and community group booths to provide information regarding diet and nutrition, dental health, hearing information, and the benefits of physical activity to the parents and children of the NRCC. The children, families, staff, and board members had a lot of fun learning about health related topics in an interesting and kid-friendly venue. This event taught the children how to change small things to prevent big problems."
Trainees at Disability Policy Seminar
Human Development Center Interdisciplinary Training (aka LEND) Trainees recently attended the 2013 AUCD Disability Policy Seminar in Washington D.C. They learned about policy issues, current legislation, and how to meet with Congressional representatives to deliver a unified message about federally funded programs that benefit people with disabilities. Pictured left to right are David Deere (Coordinator of the University of Arkansas for Medical Sciences LEND program), Jennifer Pate (Trainee from DPT program), Elizabeth Dalferes (Trainee from ComD-SLP program, who couldn't make the trip), Laura Stazio (Bio-technology Engineer Trainee), Merrideth Poynot (Trainee from AuD program), and Nadia Johnson (Trainee from OT).

Jennifer Pate, a LEND Trainee and student in the DPT program organized a Community Service Project at the Green Project in New Orleans on April 6, 2013. The event was attended by approximately 50 volunteers including students and faculty in the School of Allied Health Professions and about 15 adults with intellectual and developmental disabilities. The staff at the Green Project were very impressed with the results of this joint effort. As a "participant-observer" in this event, it was striking to notice that all the volunteers (with and without disabilities) worked together to complete their tasks and how much everyone seemed to enjoy the feeling of accomplishment that came from helping to further an important cause (diverting usable materials from landfills, and keeping harsh chemicals and gasses out of the environment).