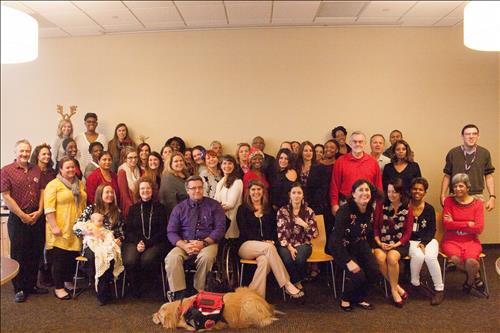 HAPPY NEW YEAR FROM EVERYONE AT LSUHSC HDC!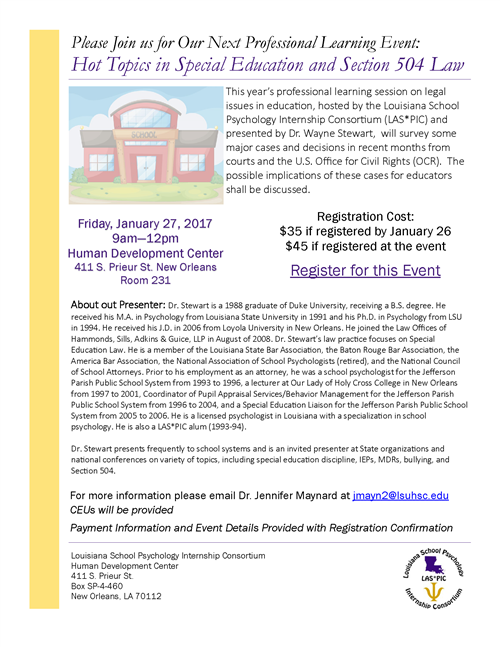 SAVE THE DATE!

 

LASARD Project Workshop
 

 Beyond Expectations!  Planning High School Experiences for Students with ASD and Related Disabilities 

 

Join the LASARD Project to learn how to prepare students with ASD and related disabilities for employment, independence, and for living happy, fulfilling lives after high school.  

Rebecca Hanberry from the Louisiana Department of Education will discuss Planning Appropriate High School Experiences for Students on Alternate Graduation Pathways including students on Act 833 and students assessed on LAA1. 

Julie Riley from the LASARD Project will share evidence-based strategies for teaching social interaction skills to high school students with ASD and related disabilities.  

Choose to attend this workshop in Natchitoches on February 7, 2017 or in New Orleans on February 8, 2017.  
Both locations will begin with registration from 8:30 to 9:00, and the workshop will run from 9:00 to 2:30. 
The workshop is free and open to anyone interested until all seats are taken. 
Registration is open now and will end on January 31, 2017.
CEUs will be provided. 
 

February 7, 2017
Natchitoches Events Center
Natchitoches, LA

For more information and to register for the Natchitoches workshop, click here.

 

 

February 8, 2017
LSUHSC Human Development Center
New Orleans, LA
For more information and to register for the New Orleans workshop, click here.

 
Supported Employment Training Schedule for 2017
HDC's Employment Initiatives announces a 2017 Supported Employment Training Schedule for Louisiana.
This includes three 40 Hour Core Training Dates:
March 14, 15 & 16 in Lafayette
April 4, 5, 6 & 12 in Baton Rouge
May 16, 17 & 18 in New Orleans
The schedule also includes numerous one day 5.0 Hour Trainings in Special Topics including Supported Employment Core Refresher, SSA Benefits & Work Incentives, Community Based Assessment Clinic, Job Development Clinic and Job Site Training Clinic. In addition, Louisiana APSE will be hosting a CESP Exam opportunity on February 10th at HDC in New Orleans. By passing this exam, employment specialist can earn the designation of Certified Employment Support Professionals (CESP). More details and registration links can be found on the HDC Employment Web Page.
---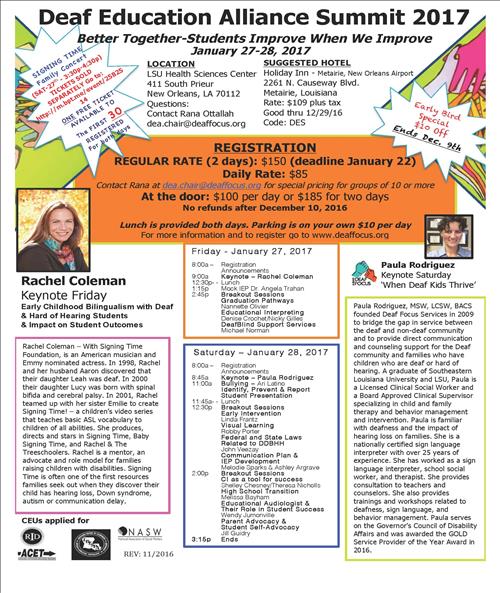 HDC Employee Spotlight: Ritu Dua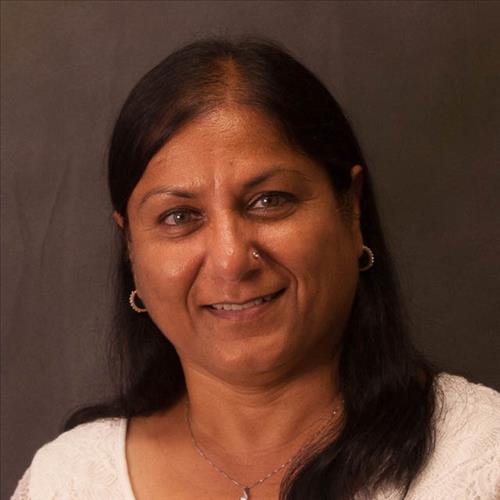 My name is Ritu Dua. I have a Bachelor's degree in Arts majoring in English, Economics, and Political Science, a bachelor's degree in Education, and Master's degree in Literature. I chose to work in the field of early education because it's very rewarding putting smiles on faces and I leave every day very satisfied. I believe that there is no school greater than childhood and no teacher greater than curiosity. I'm amazed every day to see that such little people can have such big personalities! I will be working as an Early Education Specialist for LSUHSC.
I'm happily married for 24 years to my loving husband and we recently celebrated our anniversary by travelling to Europe to celebrate our 25 years of togetherness. We have a twenty-three year old handsome son who works at UMC and is crazy about Ultimate Frisbee.  I like to travel with my family and have seen some very beautiful cities of the world. I also like to read and love to cook.
Nutrition is for Everyone, October 2016
AUCD has released Volume 1, Issue 2 of Nutrition is for Everyone. HDC employee Lauren Griffiths is the Nutrition Ambassador for Louisiana mentioned in the following highlight.
Nutrition is for Everyone Ambassador Updates
Louisiana
The Louisiana Nutrition Ambassador is working to partner with the Second Harvest Food Bank to provide Cooking Matters Classes to people with disabilities and their families and are adapting the curriculum and recipes to be more accessible. The Nutrition Ambassador has chosen six deputy ambassadors who will assist her with the education trainings. Trainings will be held in three regions this fall with additional ones next year. They are also partnering with Families Helping Families and state Employment Agencies. They have created a Facebook page, and are in the process of creating short videos to supplement their trainings. 
 
Click here for the full newsletter.
Early Head Start
The Human Development Center's Early Head Start Child Care Partnership assists low income families with young children under 3 years obtain high quality childcare services while they work and/or pursue career related education or training.  Currently, the project collaborates with four community childcare centers: Clara's Little Lambs, Kid's Kingdom, McMillian's First Steps, Toddler's University.  This partnership provides high quality child care to 210 families.  The HDC Early Head Start Child Care Partnership makes a significant difference in the lives of the families we serve.  However, much work remains to be done to ensure that young children living in poverty are supported to develop and learn in a manner that prepares them for school and eventually careers and lives as productive and contributing citizens.  Click the following link to learn more about the challenges of providing high quality child care to families living in poverty : http://www.theatlantic.com/education/archive/2016/09/the-state-budget-cuts-trapping-poor-parents/502103/.
HDC News
HDC Awarded a Three Year Post-Secondary Apprenticeship for Youth (Pay Check) Pilot Contract with LRS/LWC

On July 25, 2016, the Human Development Center (HDC) received confirmation of being awarded a long-anticipated 3-year contract between LSU Health Human Development Center and Louisiana Workforce Commission (LWC)'s Louisiana Rehabilitation Services Division.  This three year apprenticeship pilot proposal will target students who are interested in pursuing post-secondary education and employment. 

The Pay Check pilot is a three semester post-secondary transition pilot between HDC, LRS, two public school systems, two public Charter school associations, Delgado Community College, and the University Medical Center-New Orleans.  Pay Check will prepare selected youth with disabilities who are eligible for LRS services age 18-22 years to acquire, practice and become competent in a wide range of Post-secondary, community and employment environments and settings to include Delgado Community College, the University Medical Center-New Orleans and the surrounding community. Pay Check is a first of its kind program in the entire United States, and quite possibly the world. 

Participating youth were recruited from partner public high schools and will maintain a "concurrent enrollment" status.  This arrangement allows for public high schools to collaborate with Pay Check staff to support participants to continue to address IEP goals and to pursue an alternate path to high school diplomas.

Louisiana Leadership Education in Neurodevelopmental and other Disabilities (LA LEND)

Jenny Lin, one of the LEND participants, shows off Chinese numbers. The only pictures we took during training were those of her posing in front of the board.

The Human Development Center was awarded a Leadership Education in Neurodevelopmental and other related Disabilities (LEND) grant from U.S. Department of Health and Human Resources, Health Resources and Services- Administration – Maternal Child Health Bureau on July 12, 2016.  This 5-year grant will support an interdisciplinary core faculty including Audiology, Developmental and Behavioral Pediatrics, Occupational, Physical and Speech-Language Therapy, Psychology (school and clinical), Special Education, Early Childhood Special Education, as well as Family and Self-advocate faculty.  In addition, consultant faculty for the Louisiana LEND include Physician Assistant, Pediatric Dentistry and Nursing with plans to expand to Public Health and other disciplines in the future. 

 

The overall purpose of LA LEND is to prepare health and education professionals, families and self-advocates, who represent the diversity of society to become leaders in Maternal Child Health-related fields.  These future leaders advocate for policies that encourage development, implementation and access to supports and services designed to improve the health and education of children with autism spectrum disorders (ASD) and other neurodevelopmental and related disabilities (NDD).

 

LA LEND provides interdisciplinary training and experiences for graduate students, families, self-advocates, and early-career professionals.  The program provides a stipend to Trainees who complete the 300+ hour program.  Over the course of 5-years, the program will prepare more than 45 future leaders in Maternal Child Health-related fields to understand and work toward enhanced quality of life outcomes achievable by people with ASD/NDD.  The inaugural class of LA LEND includes: two students pursuing Masters in OT, two community college students with ASD, an AUD candidate, a PTD candidate, a parent of a young man with ASD, and a student pursuing a Masters in Communication Disorders (SLP).

 

To read more about LEND programs follow this link: http://www.aucd.org/template/page.cfm?id=473 (EXTERNAL LINK)​
Resources
HDC Partners