Featured Event!
2nd Symposium
Usher Syndrome in Louisiana
Saturday, August 6, 10 a.m. to 2 p.m.
Cecil J. Picard Center for
Child Development & Lifelong Learning,
University of Louisiana, Lafayette
To register or for additional information, contact Jennifer @ jlentz@lsuhsc.edu or call 504-258-7667.
Employee of the Month: John Johnson, Ph.D.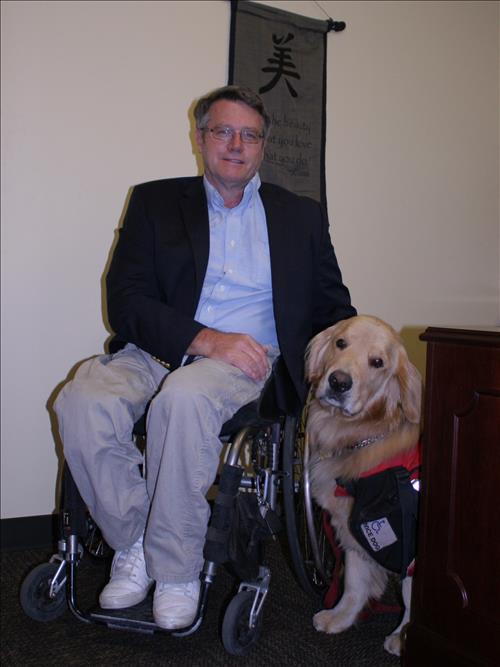 John Johnson, Ph. D., and his service dog Rowan
Dr. John Johnson came to HDC in July of last year by way of San Diego and South Dakota, in part, to be closer to two of his brothers who live in the area and to address his intense dislike for snow and cold.  Word is he is now rethinking his appreciation of heat and humidity… John (sometimes known as Dr. J) came with his traveling companion, a service dog, Rowan who is an avid ball player, social magnet, and swimmer.  He also works as John's social coordinator.  Rowan's all-time favorite is trips to NOLA CityBark Park where he hangs out with other dogs and sprawls in the pool with his tennis ball.  John has traveled all over the country and the world.  He has been to Korea, India, Mexico, Honduras, Sweden, China, Canada and Japan.  He has lived in California, Illinois, Ohio, Massachusetts and Oregon.  For fun, when John is not playing with Rowan, he is heavily involved in the Martial Arts.  He is a certified 7th degree black belt and master instructor of Soo Bahk Do (Korean martial art from which many Tae Kwon Do styles originated).  He is also ranked in other martial arts including Gracie Jiu Jitsu.  He likes to camp although has taken to using a camper to get outdoors especially in parks that are close to a body of water.  He is a news junkie addicted to NPR, CNN, MSNBC, and any all manner of news.  John loves good conversation and likes hanging out.  Its rumored that he also likes to hang out in local pubs (as long as they're accessible) to drink a few (especially single malt scotch), listen to music, and attract people who like Rowan.  Bottom line is John is really Rowan's chauffer, caregiver and provider.  HDC is a richer and better organization thanks to the many attributes and contributions John brings to us.
HDC News
 

2016 Disability Policy Seminar

Five HDC LEND Trainees and the project coordinator (Ms. Brittney Wright)  recently attended the 2016 Disability Policy Seminar  in Washington DC along with approximately 700 people with disabilities, parents, students, and allies.  This annual two day event prepares future leaders in the field of disabilities for their careers by providing intensive training on current legislative and policy issues that impact people with disabilities.  Over 200 of the attendees were LEND and UCEDD trainees. On Wednesday, individuals used this information to help them educate their Members of Congress and their staff.  AUCD was a co-sponsor of the Disability Policy Seminar along with The Arc, AAIDD, NACDD, SABE, and UCP.  All the fact sheets and available presentations can be found on the DPS website.
HDC Upcoming Events and Trainings​
Building Community through Social Capital
June 18, 2016
Human Development Center
In association with the Louisiana Developmental Disabilities Council, HDC is hosting a presentation by Al Condeluci. Al Condeluci is a spokesperson for Louisiana Partners in Policymaking and the CEO of CLASS, a full-service nonprofit that supports people with disabilities. Mr. Condeluci will discuss the impact that our friendships have to build communities. For more information or to register, click here.

Needs-Based Training for Improving Employment, Postsecondary Education, and Independent Living Outcomes for Students with Disabilities
June 20 & 21, 2016
Human Development Center
2016 Summer Transition Institute
This institute is a collaborative effort by the LSU Human Development Center and the Louisiana Department of Education.  The focus is needs-based training for improving employment, postsecondary education, and independent living outcomes for students with disabilities with an emphasis on the development and implementation of a focused strategic plan for improving transition services and outcomes for youth with disabilities age 16 and older.  Emphasis will be placed on understanding evidence-based practices and predictors of successful employment, postsecondary education and independent living outcomes for youth with disabilities after exiting high school.  This institute will be led and conducted by Dr. John Johnson, a faculty member of the LSU Human Development Center, who has extensive national experience facilitating statewide transition teams and communities of practice.  Participation in this institute is by invitation only.  We hope to conduct future annual summer institutes resources allowing.  Additional information may be obtained about this and other training, professional/leadership development and technical assistance opportunities addressing transition issues by contacting John Johnson, Ph.D., at jjoh44@lsuhsc.edu or by phone at (504) 717-9810 (cell) or (504) 556-7515 (office).

Supported Employment Trainings
View upcoming dates
​
Resources
Our Partners